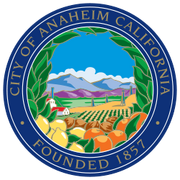 Anaheim is a city of about 350,000 in southern California near Los Angeles.
It is the home of the Anaheim Ducks of the National Hockey League. Anaheim hosted the 1999 Frozen Four.
Honda Center  1993-Present) known as Anaheim Arena (1990–1993 pre-opening), Pond of Anaheim (1993), and Arrowhead Pond of Anaheim (1993–2006)
Anaheim Ice
Anaheim Hockey Club
KHS Ice Arena (formerly Glacial Garden
External Links
Edit
Ad blocker interference detected!
Wikia is a free-to-use site that makes money from advertising. We have a modified experience for viewers using ad blockers

Wikia is not accessible if you've made further modifications. Remove the custom ad blocker rule(s) and the page will load as expected.