| team = Los Angeles Kings | league = NHL
| image =
| image_size = 250px | position = Center | shoots = Left | height_ft = 6 | height_in = 4 | weight_lb = 220 | ntl_team = Slovenia | birth_date = August 24 1987 (1987-08-24) (age 29) | birth_place = Jesenice, Slovenia,
Yugoslavia | draft = 11th overall | draft_year = 2005 | draft_team = Los Angeles Kings | career_start = 2004 | website = http://www.anzeseleven.com }}
Anže Kopitar
(born August 24, 1987) is a
Slovenian
professional
ice hockey
player and
alternate captain
of the
Los Angeles Kings
of the
National Hockey League
(NHL). He was the 11th overall draft pick by the Los Angeles Kings in the
2005 NHL Entry Draft
. Kopitar is the first Slovenian player to appear in the NHL.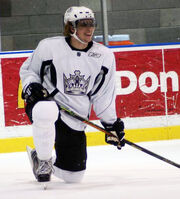 Early life
Edit
Kopitar was born in Jesenice, Slovenia, then part of Yugoslavia. His family lived in the village of Hrušica. Kopitar began skating at the age of four and grew up with a backyard hockey rink that his father constructed. His father Matjaž played for Acroni Jesenice in the Yugoslavian League, and competed in three World Championships (in the B and C pools) for Yugoslavia in the early 1990s. He has also coached Slovenian champions Acroni Jesenice of the Austrian Hockey League. Kopitar's brother, Gasper, is also a hockey player.
Playing career
Edit
European career and juniors
Edit
Kopitar developed his skills in Slovenia's senior and junior leagues. Leading the Slovenian Hockey League in scoring at the age of 16, Swedish scout Lars Soder recruited Kopitar for the Elitserien in 2004 (Soder had originally discovered Kopitar when he was 13 at a Youth Olympics tournament). Kopitar subsequently moved to Sweden to play for Södertälje. After his first season in Sweden, he was chosen 11th overall by the Los Angeles Kings in the 2005 NHL Entry Draft. Upon being drafted, he was invited to the Kings' rookie camp, but chose to remain in Sweden with Södertälje. Kopitar was given another opportunity to play in North America when the Regina Pats of the Western Hockey League (WHL) extended him an invitation. He declined, hoping to further his development by continuing to play against professionals in the Elitserien, rather than the juniors in the WHL.
Los Angeles Kings
Edit
In 2006, he accepted an invitation to the Los Angeles Kings' rookie camp. Anže Kopitar became the first Slovenian hockey player to play in the NHL when he made his career debut on October 6, 2006 at the Honda Center against the Anaheim Ducks. He scored two goals as the Kings lost 4–3. In his home debut at the Staples Center the following night, he had three assists in a 4-1 Kings victory against the St. Louis Blues. Kopitar completed his first NHL season third among rookies in scoring behind Evgeni Malkin and Paul Stastny.
The following season, Kopitar was selected to represent the Western Conference at the 56th NHL All-Star Game, his first appearance. He improved to 77 points to complete the 2007–08 season, first in team scoring.
On October 11, 2008, Kopitar signed a seven-year, $47.6 million contract extension with the Kings.
Anže notched his first career hat trick on October 22, 2009 against the Dallas Stars at the Staples Center. He helped lead the Kings to a 5–4 overtime win.
He scored his 100th career goal in a game against the Columbus Blue Jackets on January 28, 2010.
Career statistics
Edit
External links
Edit
Ad blocker interference detected!
Wikia is a free-to-use site that makes money from advertising. We have a modified experience for viewers using ad blockers

Wikia is not accessible if you've made further modifications. Remove the custom ad blocker rule(s) and the page will load as expected.