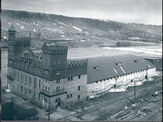 The Amphidrome was an arena in the town of Houghton, Michigan.
It was built in 1902 specifically for the Portage Lakes professional team, who played their first game there on December 30,1902.
It was destroyed by fire on January 9,1927 and was replaced that year by a new Amphidrome, later renamed James R. Dee Stadium.
Ad blocker interference detected!
Wikia is a free-to-use site that makes money from advertising. We have a modified experience for viewers using ad blockers

Wikia is not accessible if you've made further modifications. Remove the custom ad blocker rule(s) and the page will load as expected.