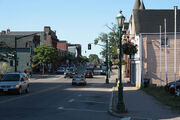 Amherst is a town of about 9500 people in northwestern Nova Scotia, Canada.
Independent team in Maritime Junior Playoffs (1931-1934)
Maritime Senior Hockey League (1949-1950)
Atlantic Coast Senior Hockey League (1954-1956)
Nova Scotia Senior Hockey League (1959-1962) withdrew December 20, 1962 due to poor attendance
Metro Valley Junior Hockey League (1968-1991) league renamed MJAHL
Maritime Junior "A" Hockey League 1991-2010) except named Mooseheads (1994-1998) league renamed
Maritime Hockey League (2010-2014) league renamed
Maritime Junior A Hockey League, 2014-Present)
External Links
Edit
Ad blocker interference detected!
Wikia is a free-to-use site that makes money from advertising. We have a modified experience for viewers using ad blockers

Wikia is not accessible if you've made further modifications. Remove the custom ad blocker rule(s) and the page will load as expected.