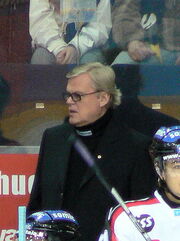 Alpo Suhonen (born June 17, 1948 in Valkeakoski, Finland) was the first European-born NHL head coach in 50 years when he took over the Chicago Blackhawks on May 22, 2000. Along with Ivan Hlinka, they were the first European born head coaches since Johnny Gottselig. He would last less than a year as head coach of the Hawks, as he resigned the next spring because of heart problems. There was frequent criticism of Suhonen's coaching citing lack of discipline and a country club atmosphere among the players. Prior to being head coach of the Blackhawks, Suhonen was an assistant coach of the Winnipeg Jets.
Suhonen has also coached Finland's national ice hockey team during the years 1982–1986, and coached several teams in Finland and in Europe.
External links
Edit
Ad blocker interference detected!
Wikia is a free-to-use site that makes money from advertising. We have a modified experience for viewers using ad blockers

Wikia is not accessible if you've made further modifications. Remove the custom ad blocker rule(s) and the page will load as expected.