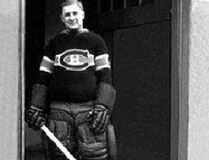 Alphonse Albert "Frenchy" Lacroix (October 21, 1897 – April 12, 1973) was an American ice hockey player who competed in the 1924 Winter Olympics. He is also known as the goaltender who replaced Georges Vezina in his last appearance. Vezina became ill, running a fever of 102 F and coughing up blood on the ice before the start of the second period. He was later diagnosed with tuberculosis.
He was a member of the American ice hockey team at the 1924 Olympics, which won the silver medal. He died in Lewiston, Maine.
Lacroix played with Boston AA from 1919 to 1925 and then joined the Canadiens in 1925. He played in five games in 1925-26 but did not see any action in 1926-27 as a reserve goaltender.
He played four more seasons of pro hockey and retired in 1931.
External links
Edit
Ad blocker interference detected!
Wikia is a free-to-use site that makes money from advertising. We have a modified experience for viewers using ad blockers

Wikia is not accessible if you've made further modifications. Remove the custom ad blocker rule(s) and the page will load as expected.