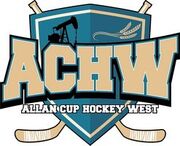 Allan Cup Hockey West (known as the Chinook Hockey League until the summer of 2017) is a Canadian Senior ice hockey league based in Alberta, but includes teams from other provinces. The ChHL is one of two Allan Cup eligible ice hockey leagues currently operating in Canada, the other is Ontario's Allan Cup Hockey.  All teams in the league are registers as senior AAA (or Allan Cup eligible) for 2017-18.
In the past the league has been made up of some intermediate teams and the intermediate teams would play in the provincial intermediate playoffs and try to qualify for a birth in the Western Canada Intermediate Playoffs for the Edmonton Journal Trophy and a birth in the Hardy Cup final.  The Hardy Cup was contested from 1968 to 1990.  Four of the league champions won the provincial playoffs to advance to the Western Canada Intermediate Playoffs

The league champion traditionally plays the champion of the province of British Columbia in the McKenzie Cup for a birth in the Allan Cup as the Pacific Region representative in the tournament as the league has had the only Senior AAA registered teams in the province, so the league playoffs are the de facto provincial playoffs.  The McKenzie Cup is not held when the event is held in either Alberta or British Columbia (or there is no competing team in British Columbia, as the case is in 2015, when the Powell River Regals were the only team in BC and withdrew from the tournament on January 1, 2015). For the 2015-16 season the league received interest from the previously independent Rosetown Red Wings from Saskatchewan.  The team was added to the league schedule. However the team withdrew from the league prior to the starting of the season (and after the schedule was written).  The Okotoks Drillers had previously notified the league that they were taking a leave for the 2015-16 season.
In late May 2016 the Bentley Generals announced they were relocating to Lacombe, Alberta and would be renamed the Lacombe Generals.
The Rosetown Red Wings were approved by Hockey Canada to join the CHL for the 2016-17 season.  However, the team played in the 2017 Saskatchewan Senior AAA playdowns (played in Rathgaber Cup against the 2017 Manitoba Senior AAA Hockey Playoffs champion) instead of the 2017 Alberta Senior AAA playdowns (the CHL playoffs) for a berth in the 2017 Allan Cup as Saskatchewan in in the Western Region where as Alberta is in the Pacific Region.
The league would be renamed Allan Cup Hockey West during the 2017 off season.  For this season the league would hold playoffs seperate of the provincial playdowns as the Rosetown Red Wings were participating in the league playoffs.  The top three teams would play a single elimination playoff over two days. The semifinal matched up the two and three seeds at the second seeds arena and the winner would play the next night against the one seed in the one seeds arena.
Present Teams
Edit
Timeline of teams
Edit
Champions
Edit
Provincial Intermediate Champions
Edit
External links
Edit