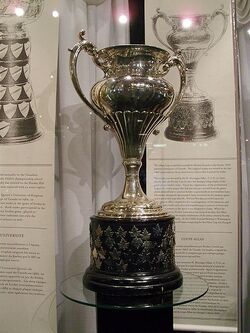 The Allan Cup was donated by Sir Montagu Allan in 1908. It is awarded to the Senior/Senior AAA amateur men's hockey champions of Canada.
Until 1918-19 this was a challenge cup, which accounts for some multiple winners in the early seasons.
The fournament then used a East-West format until 1991 where the Eastern champion would meet the Western champion.
Since 1992, the tournament has been a round robin tournament involving a host team and anywhere from 3 to 5 other regional qualifiers.
Possible Format Change
Edit
The format is under review for the 2019 tournament which would be hosted by a team from Alberta under the present format but proposals have been put forth by Ontario's Allan Cup Hockey and Alberta's Allan Cup Hockey West  to Hockey Canada to modify the format for the tournament.  Speculation is that apparently the tournament would be a return to an East-West format with a two team best-of-series, modification of qualifying to create fewer spots in the Allan Cup tournament to possibly four teams or having the ACH and ACHW champions directily qualifying for the tournament.
SEE ALSO: List of Allan Cup Finals
Winners of the Allan Cup
Edit
|}
Ad blocker interference detected!
Wikia is a free-to-use site that makes money from advertising. We have a modified experience for viewers using ad blockers

Wikia is not accessible if you've made further modifications. Remove the custom ad blocker rule(s) and the page will load as expected.