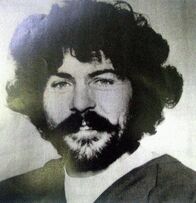 Alf Handrahan (born December 27, 1949) is a former World Hockey Association player. He played fourteen games for the Cincinnati Stingers. He was born in Alberton, Prince Edward Island.
He played intermediate hockey in the early 1970's in the Maritime provinces.
Handrahan retired in 1978 and enjoyed a long career with an Oklahoma gas company.
External links
Edit
Ad blocker interference detected!
Wikia is a free-to-use site that makes money from advertising. We have a modified experience for viewers using ad blockers

Wikia is not accessible if you've made further modifications. Remove the custom ad blocker rule(s) and the page will load as expected.