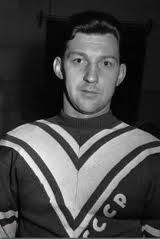 Alexei Mikhailovich Guryshev (Russian: Алексей Михайлович Гурышев; March 14, 1925 in Moscow - December 16, 1983) was a Russian ice hockey center. A four-time Soviet all-star, he was the top goal scorer in the Soviet Union five times: 1949, 1953, 1955, 1957, and 1958. He scored a total of 379 goals in 300 league games, making him the third highest goal scorer in league history.
Guryshev played on the national team between 1954 and 1959, scoring 71 goals in 92 games. He helped lead the Soviets to the gold medal at both the 1954 World Championship and the 1956 Winter Olympics. He was awarded the Order of the Badge of Honor (1957).
After his playing career, he became an international referee.
External links
Edit
Ad blocker interference detected!
Wikia is a free-to-use site that makes money from advertising. We have a modified experience for viewers using ad blockers

Wikia is not accessible if you've made further modifications. Remove the custom ad blocker rule(s) and the page will load as expected.