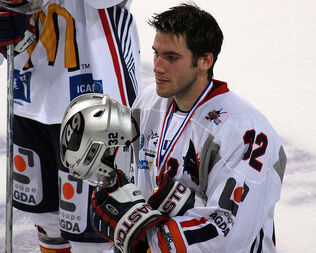 Alexandre Rouleau (born July 29, 1983 in Mont Laurier, Quebec) is a Canadian defenceman playing for the Brûleurs de Loups de Grenoble of France's Ligue Magnus.
He played junior hockey for the Val-d'Or Foreurs and Quebec Remparts from 1999 to 2003. The Pittsburgh Penguins chose him 96th overall in the 2001 NHL Entry Draft.
Rouleau turned pro with the Wheeling Nailers of the ECHL in 2003. He spent most of his time from 2003 to 2007 in the ECHL, with some time in the American Hockey League.
In 2007 Rouleau went to France and joined the Briançon Alpes Provence Hockey Club for 2007-08. The next season he joined Grenoble.
Ad blocker interference detected!
Wikia is a free-to-use site that makes money from advertising. We have a modified experience for viewers using ad blockers

Wikia is not accessible if you've made further modifications. Remove the custom ad blocker rule(s) and the page will load as expected.