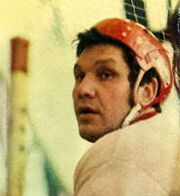 Alexander Pavlovich "Rags" Ragulin (Russian:Александр Павлович Рагулин); May 5, 1941 in Moscow - November 17, 2004 in Moscow) was a defenseman for CSKA Moscow (1962-1973), a 10 time World Champion, and a 3-time Olympic champion (1964, 1968 and 1972).
A key player in the now-legendary games against the NHL, Ragulin was usually given what he called the "unenviable task" of going up against Phil Esposito.
External links
Edit
Ad blocker interference detected!
Wikia is a free-to-use site that makes money from advertising. We have a modified experience for viewers using ad blockers

Wikia is not accessible if you've made further modifications. Remove the custom ad blocker rule(s) and the page will load as expected.