Ad blocker interference detected!
Wikia is a free-to-use site that makes money from advertising. We have a modified experience for viewers using ad blockers

Wikia is not accessible if you've made further modifications. Remove the custom ad blocker rule(s) and the page will load as expected.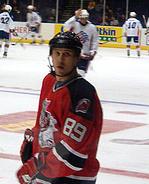 Alexander Gennadievich Mogilny (Russian: Александр Геннадиевич Могильный) (b. February 19th 1969 in Khabarovsk, U.S.S.R.) is a professional ice hockey player.
Mogilny defected from Soviet Union in 1989 to North America, with the help of Buffalo Sabres representatives, who had previously drafted him 89th overall in the 1988 NHL Entry Draft. The move paid off, as in his fourth North American season, Mogilny exploded, posting a career-high 76 goals and adding 51 assists, en route to a 127 points campaign. He became the first Russian player to lead the NHL in goals scored, an honour he shared with rookie Teemu Selänne.
Career Achievements
Edit
Unofficial member of the 50-50 club scoring 50 goals in his first 46 games in 1992-93 (he missed 7 games up to that point in the season)
Led the league with 76 goals in 1992-93
Buffalo Sabres record for most goals in a season (76 in 1992-93)
Most goals in a season by Russian born player (76 in 1992-93)
Most points in a season by a russian born player (127 in 1992-93)
First Russian born player to score 100 career goals
First Russian born player to score 200 career goals
First Russian born player to score 300 career goals
First Russian born player to score 400 career goals
First Russian born player to score 400 career goals
First Russian born player to score 300 career points
First Russian born player to score 400 career points
First Russian born player to score 500 career points
First Russian born player to score 600 career points
First Russian born player to score 700 career points
First Russian born player to score 800 career points
First Russian born player to score 900 career points
First Russian born player to score 40, 50 ,60 and 70 goals in a season (1992-93)
First Russian born player to score 100 points in a season (1992-93)