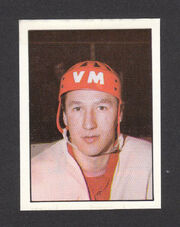 Alexander Akimovich Martynyuk (born September 11, 1945 in Moscow, USSR) is a retired ice hockey player who played in the Soviet Hockey League. He played for HC Spartak Moscow with linemates Alexander Yakushev and Vladimir Shadrin. During the 1973 World Championship Martynyuk scored eight goals against West Germany, setting the current record for most goals in an international ice hockey game. He was inducted into the Russian and Soviet Hockey Hall of Fame in 1973.
Ad blocker interference detected!
Wikia is a free-to-use site that makes money from advertising. We have a modified experience for viewers using ad blockers

Wikia is not accessible if you've made further modifications. Remove the custom ad blocker rule(s) and the page will load as expected.