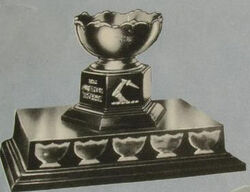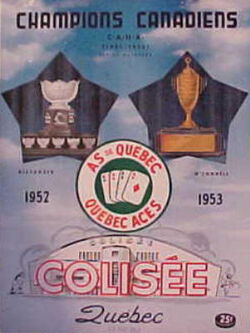 The Alexander Cup was donated by the Viscount Alexander, Canada's then Governor General, in 1950 for the Major champion of the Canadian Amateur Hockey Association. The major series was open to all hockey players, both amateur and professional.
This Cup was only in competition for four seasons (1950-51 to 1953-54). In the last two seasons only one league - the Maritime Major Hockey League was playing for it. In the first season there were five leagues. In the second season the Quebec Senior Hockey League (Major) and the Maritime Major Hockey League played for the Cup.
1950-51 Valleyfield Braves
1951-52 Quebec Aces
1952-53 Halifax Atlantics
1953-54 Halifax Atlantics
Ad blocker interference detected!
Wikia is a free-to-use site that makes money from advertising. We have a modified experience for viewers using ad blockers

Wikia is not accessible if you've made further modifications. Remove the custom ad blocker rule(s) and the page will load as expected.