Ad blocker interference detected!
Wikia is a free-to-use site that makes money from advertising. We have a modified experience for viewers using ad blockers

Wikia is not accessible if you've made further modifications. Remove the custom ad blocker rule(s) and the page will load as expected.

Alex Normore (born October 6, 1992) was the first St. Francis Xavier women's ice hockey player to be named the CIS rookie of the year.[1] This honour was bestowed upon her at the end of the 2010-11 season. She beat out McGill's Katia Clément-Heydra, Laura Brooker from Wilfrid Laurier and Jenna Smith of Calgary for the honour.
Playing career
Edit
In her freshman season (2010-11), she led all rookies in the CIS in points (41) and assists (25). In addition, Normore led all Atlantic conference rookies in goals (16 goals, which ranked second in CIS). She had finished third overall in the CIS in points and assists, while ranking seventh in goals. She competed in all 24 regular season games for the X-Women while scoring 4 times on the power play (she also logged one short-handed goal, along with two game-winning goals). Her plsu minus ranking of +28 rating was third best in the AUS.
During the 2010-11 season, Normore played in the CIS championship game. Her St. FX team was bested by the McGill Martlets in a 5-2 defeat.[2]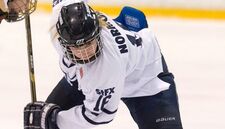 Awards and honors
Edit
CIS honors
Edit
2010-11 CIS Rookie of the Year[3]
2011 All-CIS Second Team
2011 CIS All-Rookie Team
2010-11 Academic All Canadian
2012 CIS scoring champion
2012 CIS First Team All Canadian
2011-12 Academic All Canadian
2013 CIS Second Team All Canadian
2012-13 Academic All Canadian
2014 CIS Scoring Champion
2014 CIS First Team All Canadian
AUS awards
Edit
2011 Atlantic University Sport Rookie of the Year
2011 AUS first all-star team
2012 Atlantic University Sport Most valuable player[4]
2012 Atlantic University Sport scoring champion
2013 Atlantic University Sport Most Valuable Player
2013 Atlantic University Sport First All-Star Team
2014 Atlantic University Sport Most Valuable Player
2014 Atlantic University Sport First All-Star Team
2014 Atlantic University Sport Scoring Champion
STFX 2013-14 Female Student -Athlete of the Year
Career stats
Edit
Hockey Canada
Edit
| | | | | | | |
| --- | --- | --- | --- | --- | --- | --- |
| Year | Event | GP | G | A | PTS | PIM |
| 2007 | Esso Women's Nationals | 7 | 0 | 0 | 0 | 0 |
| 2007 | National Under 18 | 5 | 0 | 1 | 1 | 0 |
| 2008 | National Under 18 | 4 | 0 | 2 | 2 | 0 |
| 2009 | National Under 18 | 4 | 2 | 0 | 2 | 2 |
References
Edit
<object type="cosymantecnisbfw" cotype="cs" id="SILOBFWOBJECTID" style="width: 0px; height: 0px; display: block;"></object>