Alev Kelter
Position
Defense
Height
Weight
5 ft 8 in (1.73 m)
150 lb (68 kg)
WCHA Team
Wisconsin (2010-)
Born
March 21, 1991,
Eagle River, Alaska
Pro Career
2008 – present
Medal record
Competitor for the  United States




U18 IIHF World Women Championships




Gold
2008
2009 U18 Women's World Ice Hockey Championships




Gold
2009
2009 U18 Women's World Ice Hockey Championships




Alev Kelter (born March 21, 1991)[1] has competed for the Untied States National women's ice hockey team in numerous tournaments. Currently she competes for the Wisconsin Badgers women's ice hockey program. At Kelter also competes in soccer at the University of Wisconsin with her twin sister Derya. She also competes in soccer at the University of Wisconsin with her twin sister Derya Kelter.
Playing career
Edit
The sisters started playing soccer together when they were 3. Since then, they have since been teammates on soccer and hockey teams at the high school and club levels. In 2006, the Anchorage School District introduced flag football, and the sisters participated in that sport too. Kelter played for the Anchorage North Stars U19 girls' team and for the boys' hockey team at Chugiak. As a member of the Under 16 North Stars in 2006-07, she tallied 19 points (8-11) as team won state championship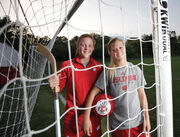 During the 2009-10 season, Kelter missed the first 14 games while competing with the Badgers soccer team. She made her NCAA debut on November 27 against the Providence Friars. Her first NCAA goal was February 14, 2010 against Minnesota State. Her best performance of the season was in a two game series against Minnesota State from December 11-12, 2009. She tallied three assists and notched a two-game point streak.
Of note, at Wisconsin, soccer and hockey overlap. Soccer starts in August and depending on the postseason, the season could end in November. The women's hockey team starts its season in late September. While recruiting them, head coach Mark Johnson, wanted both Kelters to play for him, even though soccer would make them unavailable for part of the season. [2]
During the 2010-11 sesaon, Kelter played in 22 games and earned three points on three assists and a plus-14 rating. Her season debut came on December 11 in a 6-1 win at St. Cloud State. On January 14, Kelter recorded her first point of the season with an assist against St. Cloud State. Her second assist of the season came at Bemidji State on February 4. She registered an assist in the WCHA Final Face-off championship against Minnesota.
USA Hockey
Edit
Kelter was the captain of the U.S. Women's Under-18 Select Team that competed in 2008 in a competitive series against Canada. In that same year, she was a member of the U.S. National Under-18 Team that competed at the first-ever IIHF World Women's U18 Championship in 2008. She recorded six assists in helping Team USA to the gold medal. The following year, she won gold at the 2009 IIHF World Women's U18 Championship while serving as team captain. In the tournament, she led all defensemen in scoring in the tournament. Kelter accumulated eight points (5g, 3a) in five games. She has attended the USA Hockey Player Development Camp on three occasions (2005-06, 2008).
Awards and honors
Edit
Gatorade Alaska Player of the Year in soccer
2008 Daily News Girls Athlete of the Year
Selected to the U17 Women's National Soccer Team in 2007
Part of the Olympic Development Program National Pool for soccer from 2005-07
All-conference and all-state in both soccer and flag football in 2007
All-WCHA Academic Team (2010-11)
2011 NCAA Frozen Four All-Tournament Team[3]
References
Edit
Ad blocker interference detected!
Wikia is a free-to-use site that makes money from advertising. We have a modified experience for viewers using ad blockers

Wikia is not accessible if you've made further modifications. Remove the custom ad blocker rule(s) and the page will load as expected.