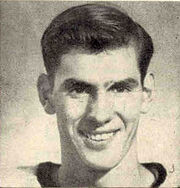 Aldo Guidolin (Born - June 6, 1932 in Forks of Credit, Ontario) is a retired Canadian professional ice hockey defenceman who played 182 games in the National Hockey League for the New York Rangers.
Guidolin played junior for the Guelph Biltmores (a New York Rangers farm team) from 1949–52, winning the Memorial Cup in 1952.
He turned pro with the Rangers in 1952-53 and spent the better part of three seasons with the club. Partway through the 1955-56 he was sent down to the Providence Reds, never to return to the NHL.
Guuidolin was a consistent player in the American Hockey League until his retirement in 1969, placing on the First All-Star team in 1961 and 1962.
He was a player-coach of the Baltimore Clippers in 1962-63, 1963–64, and 1968-69. He was a coach of the Colorado Rockies for part of the 1978-79 season.
External links
Edit
Aldo Guidolin's career stats at The Internet Hockey Database
Ad blocker interference detected!
Wikia is a free-to-use site that makes money from advertising. We have a modified experience for viewers using ad blockers

Wikia is not accessible if you've made further modifications. Remove the custom ad blocker rule(s) and the page will load as expected.