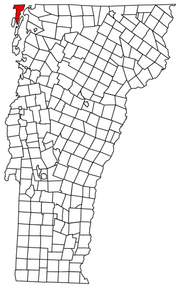 Alburgh is a town in the state of Vermont, United States.
Until 2006, Alburgh was known as Alburg. After having initially been named Alburgh, the US Post Office decided to change the town's name to Alburg without the town's actual approval in the 1800's; over a century of protests and requests finally resulted in the name being reverted.
Hockey in Alburgh
Edit
Ad blocker interference detected!
Wikia is a free-to-use site that makes money from advertising. We have a modified experience for viewers using ad blockers

Wikia is not accessible if you've made further modifications. Remove the custom ad blocker rule(s) and the page will load as expected.