Ad blocker interference detected!
Wikia is a free-to-use site that makes money from advertising. We have a modified experience for viewers using ad blockers

Wikia is not accessible if you've made further modifications. Remove the custom ad blocker rule(s) and the page will load as expected.
This is a list of the Alberta Senior Hockey Champions. When they were eligible, they played in the Allan Cup playoffs.
From 1945-46 to 1949-50 and 1966-67 to 1967-68 teams from Alberta and Saskatchewan played together in the Western Canada Senior Hockey League. However, in 1966-67 and 1967-68 there were separate Alberta champions.
Senior (Allan Cup Eligible)
Edit
(Senior AAA champions from this season onward)
Allan Cup Winners in Bold print
Senior AA Champions
Edit
Not held 1991 to 2008
2008-09 Spirit River
2009-10 West Central Rams
2010-11 Provost Blades
2011-12 Daysland Northstars
2012-13 Innisfail Eagles
2013-14 Okotoks Drillers
2014-15 Nanton Palominos
2015-16 Daysland Northstars
Senior A Champions
Edit
1985-86 Brooks Blackhawks
1986-87 Beaverlodge 77's
1987-88 Bonnyville Pontiacs
1988-89 Irma
1989-90 Irma
1990-91 Bonnyville Pontiacs
1991-92 Bonnyville Pontiace
1992-93 Innisfail Eagles
1993-94 Bashaw
1994-95 Grimshaw
1995-96 Drayton Valley
1996-97 Hythe
1997-98 Spirit River
1998-99 Irma/Wainwright
1999-00 Westlock Wolfpack
2000-01 Daysland Northstars
2001-02 Bentley Generals
2002-03 Fort Macleod Mustangs
2003-04 Bonnyville Pontiacs
2004-05 Spirit River
2005-06 Grand Prairie Athletics
2006-07 Horse Lake Thunder
2007-08 Daysland Northstars
2008-09 Provost
2009-10 Wainwright Rustlers
2010-11 Dewberry Mustangs
2011-12 Dewberry Mustangs
2012-13 Nanton Palominos
2013-14 Morinville Kings
2014-15 Nanton Palominos
2015-16 Daysland North Stars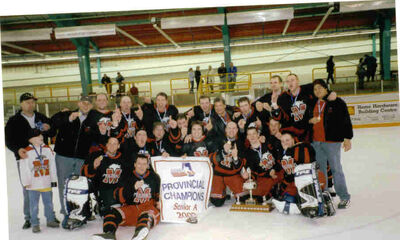 Senior B Champions
Edit
1985-86 Stettler Sabres
1986-87 Ponoka Stampeders
1987-88 Lacombe
1988-89 Olds
1989-90 Bonnyville Pontiacs
1990-91 Trochu Blazers
1991-92 Consort
1992-93 Big Valley Oil Kings
1993-94 Bonnyville Pontiacs
1994-95 Peace River
1995-96 Rocky Mountain House
1996-97 Nanton
1997-98 Slave Lake
1998-99 Drayton Valley Wildcats
1999-00 Slave Lake
2000-01 Slave Lake
2001-02 Fort Macleod Mustangs
2002-03 Drayton Valley Wildcats
2003-04 Slave Lake
2004-05 Bonnyville Pontiacs
2005-06 Fort Macleod Mustangs
2006-07 Rocky Mountain Rams
2007-08 Rocky Mountain House Rams
Senior C Champions
Edit
1985-86 Hughenden Jets
1986-87 Wainwright Rustlers
1987-88 Coronation
1988-89 Coronation
1989-90 Consort
1990-91 Dewberry Mustangs
1991-92 Didsbury
Senior D Champions
Edit
1985-86 Ponoka Stampeders
1986-87 Oyen Clippers
1987-88 Oyen Clippers
1988-89 Wainwright Rustlers
1989-90 Elk Point