The University of Alberta Pandas women's ice hockey team represent the University of Alberta. Since joining the CIS in 1997, their only head coach has been Howie Draper. On January 25, 2011, it was announced that the 1999-2000 University of Alberta Pandas hockey team would be inducted into the Alberta Hockey Hall of Fame.[1]
Early years
Edit
In the era of the First World War, the University of Alberta formed men's ice hockey and women's ice hockey teams. The women's team played many community based teams. The University of Alberta played the Edmonton Monarchs in the Monarchs first ever game in 1918. [2] The city of Edmonton would organize women's ice hockey into three divisions in 1930: junior, intermediate and senior. The Edmonton Monarchs and the University of Alberta were the only teams that comprised the senior division. [3] In that same year, the University of Alberta would challenge the Edmonton Monarchs for the Alpine Cup. The Monarchs prevailed by a 1-0 score. By 1934, the University of Alberta was demoted to the intermediate division. In 1937, the University of Alberta competed for the Alpine Cup, contested at the Banff Winter Carnival. The club lost to the Calgary Avenue Grills team. [4]
On November 7, 2009, the Pandas defeated the University of British Columbia Thunderbirds by a score of 3-2. With the victory, the Pandas became the first women's hockey team in Canada West to hit double digits in the win column this season. The 2008-09 Canada West Rookie of the Year, and first star of the game, Stephanie Ramsay, scored the first goal of the game. She received the feed from sophomore forward Sarah Hilworth (the game's third star) at the 7:16 mark of the first. Having five assists through her first six games, Tamara Pickford scored 30 seconds into the second period. [5]
On March 14, 2010, the Pandas won the Canadian Interuniversity Sport women's ice hockey championship. In the championship, they defeated the McGill Martlets by a score of 2-0[6]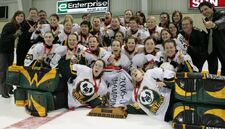 Year by year
Edit
| Team | League | GP | W | L | T | OL | GF | GA | Pts | Finish | Tournament | Nationals |
| --- | --- | --- | --- | --- | --- | --- | --- | --- | --- | --- | --- | --- |
| 1997-98 | CWUAA-Women | 2 | 0 | 0 | 2 | - | 1 | 1 | 2 | 2nd | Won Championship | 5th Place |
| 1998-99 | CWUAA-Women | 6 | 4 | 1 | 1 | - | 25 | 9 | 9 | 2nd | Won Championship | Silver Medal |
| 1999-00 | CWUAA-Women | 12 | 11 | 1 | 0 | - | 81 | 12 | 22 | 1st | Won Championship | National Champions |
| 2000-01 | CWUAA-Women | 16 | 13 | 1 | 2 | - | 74 | 10 | 28 | 2nd | Lost Final | N/A |
| 2001-02 | CWUAA-Women | 16 | 16 | 0 | 0 | - | 105 | 11 | 32 | 1st | Won Championship | National Champions |
| 2002-03 | CWUAA-Women | 20 | 19 | 0 | 1 | - | 109 | 23 | 39 | 1st | Won Championship | National Champions |
| 2003-04 | CWUAA-Women | 20 | 20 | 0 | 0 | - | 126 | 11 | 40 | 1st | Won Championship | National Champions |
| 2004-05 | CWUAA-Women | 20 | 20 | 0 | 0 | - | 121 | 16 | 40 | 1st | Won Championship | Silver Medal |
| 2005-06 | CWUAA-Women | 20 | 16 | 1 | 3 | - | 71 | 20 | 35 | 1st | Won Championship | National Champions |
| 2006-07 | CWUAA-Women | 24 | 21 | 3 | - | 3 | 130 | 27 | 42 | 1st | Won Championship | National Champions |
| 2007-08 | CWUAA-Women | 24 | 21 | 2 | - | 1 | 111 | 43 | 43 | 1st | Won Championship | 4th Place |
| 2008-09 | CWUAA-Women | 24 | 22 | 2 | - | 2 | 138 | 25 | 44 | 1st | Lost Final | N/A |
| 2009-10 | CWUAA-Women | 24 | 23 | 1 | - | 0 | 94 | 21 | 46 | 1st | Won Championship | National Champions |
| 2010-11 | CWUAA-Women | 24 | 17 | 4 | - | 3 | 80 | 31 | 37 | 1st | Lost Final | 5th Place |
| 2011-12 | CWUAA-Women | 24 | 20 | 4 | - | 0 | 96 | 40 | 40 | 1st | Lost Final | 5th Place |
| 2012-13 | CWUAA-Women | 28 | 16 | 9 | - | 3 | 68 | 50 | 35 | 4th | Lost Semifinals | N/A |
| 2013-14 | CWUAA-Women | 28 | 20 | 5 | - | 3 | 77 | 31 | 43 | 1st | Lost Semifinals | N/A |
| Team | League | GP | RW | OW | OL | RL | GF | GA | Pts | Finish | Tournament | Nationals |
| 2014-15 | CWUAA-Women | 28 | 19 | 1 | 1 | 7 | 86 | 35 | 60 | 1st | Won Championship | T-7th Place |
| 2015-16 | CWUAA-Women | 28 | 15 | 1 | 3 | 9 | 62 | 40 | 50 | 1st | Lost Semifinals | N/A |
| 2016-17 | CWUAA-Women | 28 | 17 | 4 | 3 | 4 | 74 | 39 | 62 | 2nd | Lost Quarterfinals | National Champions |
| 2017-18 | CWUAA-Women | 28 | 13 | 6 | 4 | 5 | 67 | 43 | 55 | 4th | Lost Semifinals | N/A |
| | |
| --- | --- |
| Season | Coach |
| 1997-98 | Trish Semeniuk |
| 1998-99 | Marlow Kulak |
| 1999-00 | Sue Huculak |
| 2000-01 | Krysty Lorenz |
| 2001-02 | Krysty Lorenz |
| 2002-03 | Judy Diduck |
| 2003-04 | Judy Diduck |
| 2004-05 | Danielle Bourgeois |
| 2005-06 | Kristen Haag |
| 2006-07 | Kaye London |
| 2007-08 | Jennifer Newton |
| 2008-09 | Jennifer Newton |
| 2009-10 | Tarin Podloski |
Olympians
Edit
Awards and honors
Edit
Andrea Boras, Gold medallist with Team Canada at the 2011 Winter Universiade
Danielle Bourgeois, 2004 Brodrick Trophy (CIS Most Valuable Player)[8]
Howie Draper, 2004 CIS Coach of the Year
Nicole Pratt, 2010 All-CIS Second Team selection
Tarin Podloski, 2010 All-CIS Second Team selection[9]
Team Photos
Edit
References
Edit