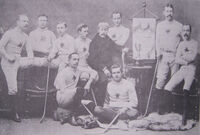 Albert Morel (1873-?) was a Canadian ice hockey player for the Ottawa Hockey Club from 1890 to 1894. He was a member of the Ontario championship squads of 1890 to 1893. He played goaltender for the club.
Playing career
Edit
Morel is first recorded as the goaltender for Ottawa College in 1890, as a 17-year-old. He joined the Ottawas after first playing against the Ottawas for the College. He joined the Ottawas and played for them for the duration of his education at the college until 1894.
References
Edit
Coleman, Charles L (1966). The Trail of the Stanley Cup, Vol. 1, 1893–1926 inc.. Montreal, Quebec: National Hockey League.

 

Kitchen, Paul (2008). Win, Tie or Wrangle. Manotick, Ontario: Penumbra Press. ISBN 9781897323465.

 
Ad blocker interference detected!
Wikia is a free-to-use site that makes money from advertising. We have a modified experience for viewers using ad blockers

Wikia is not accessible if you've made further modifications. Remove the custom ad blocker rule(s) and the page will load as expected.