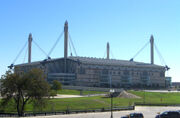 The Alamodome is a domed multi-purpose (mostly football) stadium in San Antonio, Texas.
Although primarily used for football, the stadium can and has been configured for hockey. For that sport the seating capacity can be up to 36,000.
The now-defunct San Antonio Dragons played some home games here in 1997 and 1998.