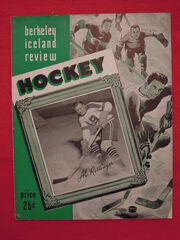 Alan Wilbur Rittinger (born January 28, 1925 in Regina, Saskatchewan) was a professional ice hockey right winger who played 19 games in the National Hockey League. He played with the Boston Bruins.
He played junior hockey for the Regina Abbotts in 1942-43. The following season he moved to Boston where he played for the Boston Olympics. In that season (1943-44) he was also called up to the Boston Bruins where he played in 19 games and scored 3 goals and 7 assists.
Rittinger played for the Olympics again in 1944-45 then played minor pro hockey for four seasons. In 1949 he joined the senior Kerrisdale Monarchs where he played for three seasons. He retired in 1952.
At right: Rittinger on a 1947 Oakland Oaks program cover.
References
Edit
Ad blocker interference detected!
Wikia is a free-to-use site that makes money from advertising. We have a modified experience for viewers using ad blockers

Wikia is not accessible if you've made further modifications. Remove the custom ad blocker rule(s) and the page will load as expected.