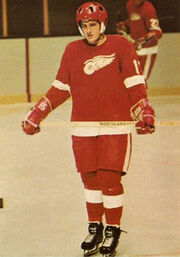 Al Karlander (born November 5 1946 in Lac La Hache, British Columbia, Canada) is a former professional centre who played in the National Hockey League for the Detroit Red Wings and the World Hockey Association for the New England Whalers and the Indianapolis Racers.
The Michigan Tech alumni was drafted in the second round, 17th overall, by the Red Wings in the 1967 NHL Amateur Draft. He played four seasons in the NHL, two of which split between the NHL and the Central Hockey League's Fort Worth Wings, before joining the WHA in 1973.
Karlander quit playing in 1977. Two years later, he coached the Cincinnati Stingers of the Central Hockey League for 33 games, finishing with a 11-21-1 record. The team failed to qualify for the playoffs and Karlander didn't return next season.
Ad blocker interference detected!
Wikia is a free-to-use site that makes money from advertising. We have a modified experience for viewers using ad blockers

Wikia is not accessible if you've made further modifications. Remove the custom ad blocker rule(s) and the page will load as expected.