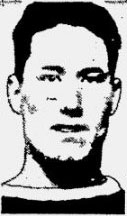 Al Huggins (born December 21, 1910, date of death unknown) was a professional ice hockey player who played 20 games in the National Hockey League for the Montreal Maroons. He was born in Toronto, Ontario.
He played junior hockey with the Toronto Canoe Club in 1926-27. In 1929-30 Huggins played for Montreal AAA as they won the Allan Cup.
Huggins turned pro in 1930-31 and played 20 games that season for the Maroons. For five seasons he played mostly in the minor pros for the Windsor Bulldogs and Syracuse Stars until retiring in 1935. He spent the next two seasons as the coach of the Stars.
In 1937 Huggins restarted his playing career with the senior South Porcupine Porkies and retired in 1942.
Ad blocker interference detected!
Wikia is a free-to-use site that makes money from advertising. We have a modified experience for viewers using ad blockers

Wikia is not accessible if you've made further modifications. Remove the custom ad blocker rule(s) and the page will load as expected.