Ad blocker interference detected!
Wikia is a free-to-use site that makes money from advertising. We have a modified experience for viewers using ad blockers

Wikia is not accessible if you've made further modifications. Remove the custom ad blocker rule(s) and the page will load as expected.
The Abby Hoffman Cup was first competed for in 1983. It was played for at the first Canadian National Women's Hockey Championship. The event was held in Brantford, Ontario and the Ontario Women's Hockey Association presented the trophy.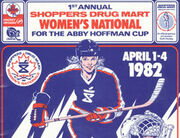 | | | |
| --- | --- | --- |
| Year | Winner | Province |
| 2008–09 | Westman Wildcats | Manitoba |
| 2007–08 | Team Manitoba | Manitoba |
| 2006–07 | Calgary Oval X-Treme | Alberta |
| 2005–06 | Team Ontario | Ontario |
| 2004–05 | Team Ontario | Ontario |
| 2003–04 | Team Ontario | Ontario |
| 2002–03 | Team Alberta | Alberta |
| 2001–02 | Equipe Quebec | Quebec |
| 2000–01 | Calgary Oval X-Treme | Alberta |
| 1999–00 | Beatrice Aeros[1] | Ontario |
| 1998–99 | Equipe Quebec | Quebec |
| 1997–98 | Calgary Oval X-Treme | Alberta |
| 1996–97 | Edmonton Chimos | Alberta |
| 1995–96 | Equipe Quebec | Quebec |
| 1994–95 | Equipe Quebec | Quebec |
| 1993–94 | Equipe Quebec | Quebec |
| 1992–93 | Toronto Aeros | Ontario |
| 1991–92 | Edmonton Chimos | Alberta |
| 1990–91 | Toronto Aeros | Ontario |
| 1989–90 | Sherbrooke | Quebec |
| 1988–89 | Sherbrooke | Quebec |
| 1987–88 | Sherbrooke | Quebec |
| 1986–87 | Hamilton Hawks | Ontario |
| 1985-86 | Hamilton Hawks | Ontario |
| 1984–85 | Edmonton Chimos | Alberta |
| 1983–84 | Edmonton Chimos | Alberta |
| 1982–83 | Burlington Ladies | Ontario |
References
Edit
↑ Collins gem Hockey Facts and Stats 2009-10, p.545, Andrew Podnieks, Harper Collins Publishers Ltd, Toronto, Canada, ISBN 978-1-55468-621-6