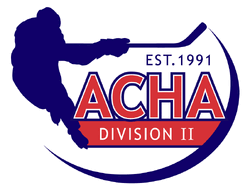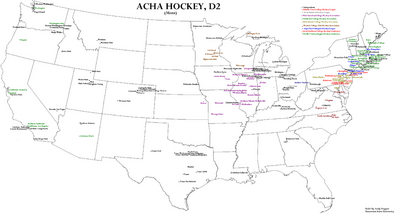 ACHA Men's Division II is currently the largest division in the American Collegiate Hockey Association (ACHA), it includes 162 teams in ten Conferences and Independents. These teams are divided into four Regions (Northeast, Southeast, Central, West). A total of 16 teams qualify for the National Championship tournament, four from each region. The top two seeds from each region earn an automatic berth into Nationals. Seeds 3-10 compete in a regional tournament with the two teams who win both of their games also earning a Nationals berth.
ACHA Women's Division II includes 29 teams playing in two Conferences and Independents with four teams qualify for the National tournament.
Ad blocker interference detected!
Wikia is a free-to-use site that makes money from advertising. We have a modified experience for viewers using ad blockers

Wikia is not accessible if you've made further modifications. Remove the custom ad blocker rule(s) and the page will load as expected.