84 Lumber Arena is the main ice arena within the Robert Morris University Island Sports Center, located on Neville Island, PA. The island is in the middle of the Ohio River, only 5 minutes away from the Robert Morris campus in Moon Township, and within 35 minutes of downtown Pittsburgh.
84 Lumber Arena is the home arena for the Robert Morris Colonials men's and women's ice hockey teams.
The Island Sports Center consists of two primary buildings: the Golf dome (located on the left) and the Primary Main Building (on the right). The Main Building houses two indoor ice rinks, one listed at the Collegiate size, the other listed at an Olympic size. Outside there are two outdoor rinks, both which can be used as a Deck Hockey Rink, one can be frozen during the winter months as well. There is also a Collegiate soccer field located behind the golf dome, as well as an 18 Hole Mini Golf Course.
For More information visit, [1]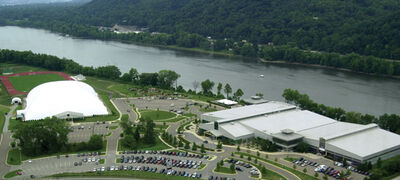 Ad blocker interference detected!
Wikia is a free-to-use site that makes money from advertising. We have a modified experience for viewers using ad blockers

Wikia is not accessible if you've made further modifications. Remove the custom ad blocker rule(s) and the page will load as expected.