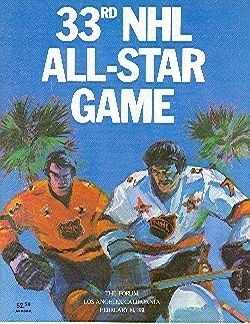 </onlyinclude>
The 33rd National Hockey League All-Star Game was held in The Forum in Inglewood, California, home to the Los Angeles Kings, on February 10, 1981.
Campbell Conference
Wales Conference
Final Score
4
1
Head Coach
Pat Quinn (Philadelphia Flyers)
Scotty Bowman (Buffalo Sabres)
Lineup
Starting Lineup:

Reserves:

Starting Lineup:

Reserves:

Scoring Summary

Nilsson (Barber, Holmgren) 0:45 1st
Barber (Johnstone) 8:06 1st (Shorthanded)
Babych (Johnstone, Federko) 16:12 2nd
Wilson (Bossy, Gretzky) 10:18 3rd

Ogrodnick (Howe, Kehoe) 5:13 3rd

Penalties
Win/Loss
Mike Liut
Don Beaupre
References
Edit
Podnieks, Andrew (2000). The NHL All-Star Game: 50 years of tradition. Toronto: HarperCollins, pp. 167–171. ISBN 000200058X.

 
Ad blocker interference detected!
Wikia is a free-to-use site that makes money from advertising. We have a modified experience for viewers using ad blockers

Wikia is not accessible if you've made further modifications. Remove the custom ad blocker rule(s) and the page will load as expected.