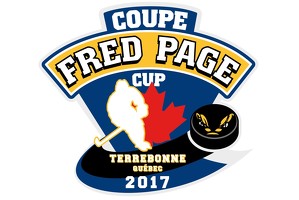 This is the 2017 Fred Page Cup.  The tournament is the Eastern Canada qualifier tournament for the 2017 Royal Bank Cup, which is the Junior A Canadian national championship.  The tournament will be held at the Complexe sportif de Terrebonne in Terrebonne, Quebec hosted by the Terrebonne Cobras.  The event will be held from May 2-7, 2017.
The tournament will involve the champions of the Central Canada Hockey League (Bogart Cup),  Maritime Junior A Hockey League (Kent Cup),  Quebec Junior Hockey League (NAPA Cup) and the host Terrebonne Cobras.  If the Cobras win the QJHL championship the playoff runner-up will qualify as the league representative.  The winner of the tournament will qualify for the 2017 Royal Bank Cup, which is being held in Cobourg, Ontario and hosted by the Cobourg Cougars.
Ad blocker interference detected!
Wikia is a free-to-use site that makes money from advertising. We have a modified experience for viewers using ad blockers

Wikia is not accessible if you've made further modifications. Remove the custom ad blocker rule(s) and the page will load as expected.