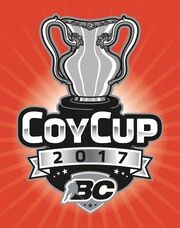 The 2017 Coy Cup will be held in Whitehorse, Yukon March 28 to April 1, 2017 and be hosted by the Whitehorse Huskies at the Takhini Arena in March of 2017.  Hockey in the Yukon in played under the sanctioning of the British Columbia Amateur Hockey Association
The Coy Cup is the Senior AA championship for the province of British Columbia.
The tournament traditionally involves four teams playing in a round robin preliminary round with the fourth place team being eliminated from further play.  The second and third place teams meet in the semifinal.  The semifinal winner plays the first place team from the round robin in the championship game.
Qualifying teams
Edit
March 28
March 29
March 30
Round-robin standings
Edit
     Indicates team advanced directly to the championship game
     Indicates team advanced to the semifinal game
     Indicates team eliminated from further play
March 31 Semifinal
April 1 Final