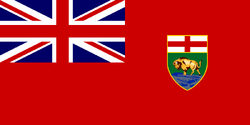 Hockey Manitoba had the Champions of Manitoba's 5 Senior Leagues, plus a wildcard team (rotated between the leagues) faceoff for the Manitoba Championship, the Manitoba Cup.
The tournament was held March 31 to April 10, with opening games held at the PCU Centre in Portage and the Riverdale Community Centre in Rivers, with the rest at the MTS Iceplex in Winnipeg.
Tournament
Edit
Pool A
Pool B
Round Robin Games
Carberry defeated Carman 5-3
Moosomin defeated Killarney 5-3
Lac du Bonnet defeated Carberry 7-4
Ste. Anne defeated Moosomin 8-3
Carman defeated Lac du Bonnet 6-3
Killarney defeated Ste. Anne 6-5
Round Robin Standings
Team
GP
W
L
GF
GA
Team
GP
W
L
GF
GA
Carman
2
1
1
9
8
Ste. Anne
2
1
1
13
9
Lac du Bonnet
2
1
1
10
10
Killarney
2
1
1
9
10
Carberry
2
1
1
9
10
Moosomin
2
1
1
8
11
Semi Final
Killarney defeated Carman 5-2
Lac du Bonnet defeated Ste. Anne 3-2
Final
Killarney defeated Lac du Bonnet 9 to 4
---
Killarney Shamrocks won the Manitoba Senior A Championship
---
Ad blocker interference detected!
Wikia is a free-to-use site that makes money from advertising. We have a modified experience for viewers using ad blockers

Wikia is not accessible if you've made further modifications. Remove the custom ad blocker rule(s) and the page will load as expected.