Ad blocker interference detected!
Wikia is a free-to-use site that makes money from advertising. We have a modified experience for viewers using ad blockers

Wikia is not accessible if you've made further modifications. Remove the custom ad blocker rule(s) and the page will load as expected.

These are the 2016 Clarence Schmalz Cup playoffs. This is the Ontario Provincial championship at the Junior C level.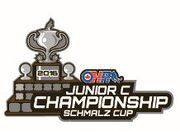 The eight league champions play off in a 3 round tournament.  All three rounds are best-of-seven.
Each pairing represents a best-of-seven game series. See league articles for individual league playoffs.
 
Quarter-finals
Semi-finals
Schmalz Cup Finals
 
 
 
 
 
 
 
 
 
 
 
 
 
 
 
COJCHL
 Port Perry Mojacks
1
 
EBJCHL
 Port Hope Panthers
4
 
 
EBJCHL
 Port Hope Panthers
4
 
 
GMOJCHL
 Alliston Hornets
2
 
GMOJCHL
 Alliston Hornets
4
 
WOJCHL
 Kincardine Bulldogs
1
 
 
 
EBJCHL
 Port Hope Panthers
0
 
MJCHL
 Ayr Centennials
4
 
MWJCHL
 Ayr Centennials
4
 
NDJCHL
 Grimsby Peach Kings
1
 
MJCHL
 Ayr Centennials
4
 
GLJHL
 Essex 73's
0
 
GLJHL
 Essex 73's
4
 
SOJHL
 Dorchester Dolphins
0
 
Quarterfinals
Edit
Port Hope Panthers defeated Port Perry Mojacks 4 games to 1 (7-6 (ot), 2-3 (ot), 5-3, 5-2, 4-1)
Essex 73's defeated Dorchester Dolphins 4 games to none (5-2, 4-0, 10-0, 4-1)
Ayr Centennials defeated Grimsby Peach Kings 4 games to 1 (3-1, 2-5, 3-2, 3-0, 5-0)
Alliston Hornets defeated Kincardine Bulldogs 4 games to 1 (4-3, 3-1, 4-3, 3-4, 3-1)
Semifinals
Edit
Port Hope Panthers defeated Alliston Hornets 4 games to 2 (1-2, 6-4, 4-6, 4-1, 6-4, 3-0)
Ayr Centennials defeated Essex 73's 4 games to none (5-2, 5-4, 5-2, 3-2 (ot))
Ayr Centennials defeated Port Hope Panthers 4 games to none (6-3, 3-2, 5-2, 5-2)