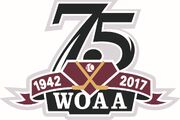 This is the 2016-17 WOAA Senior AA Hockey League season.  This was the league's 27th season at the senior level and the 7th season under this name.  The league was previously known as the WOAA Senior Hockey League from 1990 to 2010.
Membership Changes
Edit
The Elora Rocks suspended operations for the 2015-16 season after playing 2 games return to the league.
The league abandoned the two division alignment and went to a single division format with the extreme northern and southern teams not playing each other during the regular season.
Standings
Edit
note: one game between Mapleton-Minto and Shallow Lake was cancelled and not rescheduled
The top eight team qualify for the senior AA playoffs.  All Senior AA series are best-of-seven. The balance of the teams play in the Senior A playoffs. 9th & 10th get a bye, 11th vs 14th, 12 vs 13 in a one weekend best 2 of 3, winners advance to Senior A semis.
Senior AA Quarterfinals
Edit
Senior A Quarterfinals
Edit
Senior AA Semifinals
Edit
Senior A Semifinals
Edit
Senior AA Final
Edit
Senior A Final
Edit