This is the 2016-17 United States Hockey League season.  This is the league's 40th season as a junior hockey league. To mark the league's 40th anniversary a new logo was created.

Membership Changes
Edit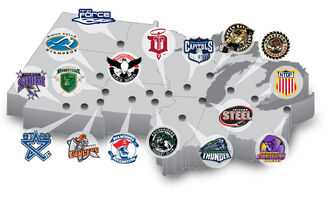 Eastern Conference

Team
Founded
Arena
City
Bloomington Thunder
2014
U.S. Cellular Coliseum
Bloomington, Illinois
Cedar Rapids RoughRiders
1983
Cedar Rapids Ice Arena
Cedar Rapids, Iowa
Chicago Steel
1996
Fox Valley Ice Arena
Geneva, Illinois
Dubuque Fighting Saints
2010
Mystique Ice Center
Dubuque, Iowa
Green Bay Gamblers
1994
Resch Center
Green Bay, Wisconsin
Madison Capitols
2014
Alliant Energy Center
Madison, Wisconsin
Muskegon Lumberjacks
2010
L. C. Walker Arena
Muskegon, Michigan
USA Hockey National Team Development Program
1996
USA Hockey Arena
Plymouth, Michigan
Youngstown Phantoms
2003
Covelli Centre
Youngstown, Ohio

Western Conference

Team
Founded
Arena
City
Des Moines Buccaneers
1980
Buccaneer Arena
Urbandale, Iowa
Fargo Force
2008
Scheels Arena
Fargo, North Dakota
Lincoln Stars
1996
Ice Box
Lincoln, Nebraska
Omaha Lancers
1986
Ralston Arena
Ralston, Nebraska
Sioux City Musketeers
1972
Gateway Arena
Sioux City, Iowa
Sioux Falls Stampede
1999
Denny Sanford PREMIER Center
Sioux Falls, South Dakota
Tri-City Storm
2000
Viaero Event Center
Kearney, Nebraska
Waterloo Black Hawks
1962
Young Arena
Waterloo, Iowa

Dormant Teams

Team
Founded
Arena
City
Indiana Ice
2004
Lyceum Pavillion
Indianapolis, Indiana
Standings
Edit
Each team is scheduled to play 60 games during the regular season
Standings to be added upon completion of the regular season.  The league regular season champion is awarded the Anderson Cup.
Clark Cup Playoffs
Edit
The top four teams in each conference qualify for the playoffs. The first place team plays the fourth place team and the second place team plays the third place team.  The conference semifinal winners meet in the conference finals and the conference finals winners meet in the Clark Cup Final.  All series are best-of-five.  As this is presently the only Tier-I junior league in the United States there are no further playoffs beyond the league final.