This is the 2016-17 New England Hockey Conference Men's season. This is the league's second season under this name.  The league was previously known as ECAC East.
Membership Changes
Edit
The University of New England Nor'Easters leave the conference for the Commonwealth Coast Conference
The league added the Daniel Webster Eagles who were and independent team for 2015-16.  However, the school is closing as the land the school was owned and was  operated by ITT Technical Institution, an entity that has filed for bankruptcy protection and the land was sold at auction to Southern New Hampshire University.  The school would end up not joining the conference as the school was being absorbed by Southern New Hampshire University.
With the conference planning on going to a Division III only membership; the St. Anselm Hawks and the St. Michael's Purple Knights are playing their last season in the conference and will be a full member of the Division II Northeast Ten conference for the 2017-18 season as that conference is expanding its scheduling to include the Post University Eagles as a partner to give its' member teams 18 conference games for the 2017-18 season.
Membership
Edit
Standings
Edit
Post Season Tournament
Edit
All seven of the Division III teams qualify for the tournament. St. Anselm and St. Michael's participate in the Northeast-10 conference tournament as they are members of that conference in all other sports. Tournament is single elimination.  Tournament winner earns the conference's automatic bid to the 2017 NCAA Division III Men's Ice Hockey Tournament.  All games are played at the higher seeds arena.  Formal announcement of seeds and schedule February 12.
Quarterfinals
Edit
Semifinals
Edit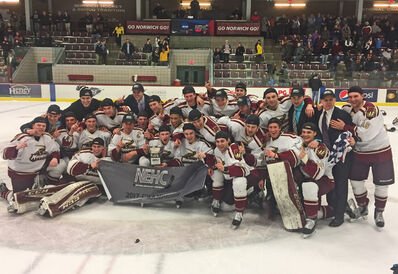 Ad blocker interference detected!
Wikia is a free-to-use site that makes money from advertising. We have a modified experience for viewers using ad blockers

Wikia is not accessible if you've made further modifications. Remove the custom ad blocker rule(s) and the page will load as expected.