This is the 2016-17 National College Prospects Hockey League season. This is the league's first season.
Team changes
Edit
Leading up to the start-up of league play a team based out of Cheektowaga, New York named the Buffalo Hornets was replaced by the Niagara Falls, New York based New York Sharks and the Bakerstown, Pennsylvania based Pittsburgh Royal Travelers disbanded and were replaced by the Almonte, Ontario based Ottawa Sharpshooters, who are the U-18 developmental team for the Almonte Jr. Sharpshooters of the Canadian Premier Junior Hockey League, which also starts play with the 2016-17 season.
The Lake Erie Warriors ran into strong media attention for a logo that was considered by some to be racially insensitive.  In late July, the team would change its nickname to the Gulls and then a day later change the name to the Lake Erie Eagles. The House O'Hockey Mallers were renamed the Blyth Pittsburgh Yellow Jackets on August 29th.
The New York Sharks relocated in early Septermber to Rexdale, Ontario and were renamed the Mississauga Bruins.  The Bruins would play their last game January 15th.
The Blyth Pittsburgh Yellow Jackets and  Niagara Red Cats were quietly dropped by the league in early October 2016
Former Teams
Edit
Standings
Edit
Frosty Four Playoffs
Edit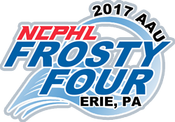 Quarterfinal
Edit
Semifinal
Edit
Ad blocker interference detected!
Wikia is a free-to-use site that makes money from advertising. We have a modified experience for viewers using ad blockers

Wikia is not accessible if you've made further modifications. Remove the custom ad blocker rule(s) and the page will load as expected.