This is the 2016-17 Northern Collegiate Hockey Association Women's hockey season.
Membership Changes
Edit
On June 14, 2016; the conference announced that they were adding the women's programs for the Aurora Spartans and Northland Lumberjills to match the men's programs and that Trine University would be added to the conference in men's and women's ice hockey when they begin Division III play.  All four teams will join conference play for the 2017-18 season
Membership
Edit
Standings
Edit
Slaats Cup Playoffs (Conference Tournament)
Edit
The top four seeds qualify for the single elimination conference tournament.  The #1 seed hosts the #4 seed and #2 host #3.  The semifinal winners meet at the higher seeds rink for the conference championship.  The winner is awarded the Slaats Cup and advances to the 2017 NCAA Division III Women's Ice Hockey Tournament.
Semifinals
Edit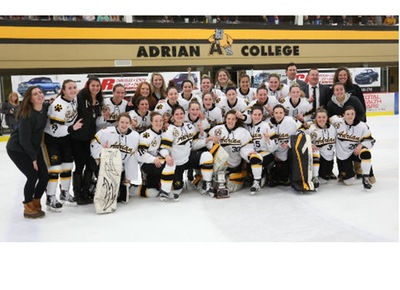 Ad blocker interference detected!
Wikia is a free-to-use site that makes money from advertising. We have a modified experience for viewers using ad blockers

Wikia is not accessible if you've made further modifications. Remove the custom ad blocker rule(s) and the page will load as expected.