This is the 2016-17 Greater Ontario Junior Hockey League season.  This was the league's 67th season overall dating back to the Eastern Junior B Hockey League, Metro Junior A Hockey League, and the Western Junior B Hockey League in 1950.  The league has used the Greater Ontario Junior Hockey League name since 2007 when 3 leagues (Mid-Western Junior Hockey League, Golden Horseshoe Junior Hockey League and Western Ontario Hockey League) merged to form the present league.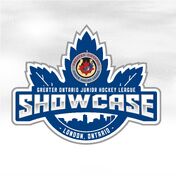 The league schedule was released on August 16 and featured each of the 27 teams playing a 50 game schedule with each team playing 24 home games, 24 away games and 2 neutral site games played at the league's 8th Annual Showcase event held September 9th-11th at the Western Fairgrounds in London, Ontario. 
Membership changes
Edit
Standings
Edit
Golden Horseshoe Conference
Edit
Midwestern Conference
Edit
Western Conference
Edit
Sutherland Cup Playoffs
Edit
Each conference will hold its own playoffs with 8 teams qualifying for each conference. The three conference champions and the conference runner-up with the best "playoff record to date" qualify for the Sutherland Cup semifinals. The wildcard play the team with the better record of the two they didn't play in the conference final.  All playoff series are best-of-seven.  The Sutherland Cup champion does not advance any further as there is no Eastern Canada championship at the Junior B level.
Due to two teams having financial and roster issues only seven teams will participate in the Golden Horseshoe Conference playoffs with the first place team earning a bye to the conference semifinal round
Golden Horseshoe Conference Quarterfinals
Edit
Midwestern Conference Quarterfinals
Edit
Western Conference Quarterfinals
Edit
Golden Horseshoe Conference Semifinals
Edit
Midwestern Conference Semifinals
Edit
Western Conference Semifinals
Edit
Golden Horseshoe Final
Edit
Midwestern Conference Final
Edit
Western Conference Final
Edit
Sutherland Cup Semifinals
Edit
Sutherland Cup Final
Edit