This is the 2016-17 Greater Ontario Junior Hockey League season.  This was the league's 67th season overall dating back to the Eastern Junior B Hockey League, Metro Junior A Hockey League, and the Western Junior B Hockey League in 1950.  The league has used the Greater Ontario Junior Hockey League name since 2007 when 3 leagues (Mid-Western Junior Hockey League, Golden Horseshoe Junior Hockey League and Western Ontario Hockey League) merged to form the present league.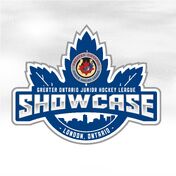 The league schedule was released on August 16 and featured each of the 27 teams playing a 50 game schedule with each team playing 24 home games, 24 away games and 2 neutral site games played at the league's 8th Annual Showcase event held September 9th-11th at the Western Fairgrounds in London, Ontario. 
Membership changes
Edit
Buffalo Regals return to the league, they had requested one-year leave of absence prior to the 2014–15 season. They also sat out 2015–16 season after failing to file the proper paperwork with USA Hockey in order to be re-instated for sanctioned play.  Reports had surfaced that the team had folded between November 18th and 20th but the team had cancelled its' November 20th game and returned to the ice for a game on November 22nd.
The Stratford Cullitons change their name to the Stratford Warriors
Standings
Edit
to be added upon completion of the regular season
Sutherland Cup Playoffs
Edit
Each conference will hold its own playoffs with 8 teams qualifying for each conference. The three conference champions and the conference runner-up with the best "playoff record to date" qualify for the Sutherland Cup semifinals. The wildcard play the team with the better record of the two they didn't play in the conference final.  All playoff series are best-of-seven.  The Sutherland Cup champion does not advance any further as there is no Eastern Canada championship at the Junior B level.
Ad blocker interference detected!
Wikia is a free-to-use site that makes money from advertising. We have a modified experience for viewers using ad blockers

Wikia is not accessible if you've made further modifications. Remove the custom ad blocker rule(s) and the page will load as expected.