This is the 2016-17 Central Interior Hockey League season.  This is the league's 21st season.
Membership Changes
Edit
East Division
Edit
West Division
Edit
Standings
Edit
East Division
Edit
West Division
Edit
CIHL Cup Playoffs
Edit
Playoff Format
Edit
All teams qualify.  The first place team in each divsion receives a bye to the division final. The 2nd place team plays the 3rd place team in the division semifinal.  The first place team plays the division semifinal winner in the division final.  The division winners qualifies for the league final.  The playoff champion directly advances to the 2017 Coy Cup.  The runner-up advances to at-large qualifying for the Coy Cup tournament.
East Semifinal
Edit
West Semifinal
Edit
East Final
Edit
West Final
Edit
League Final
Edit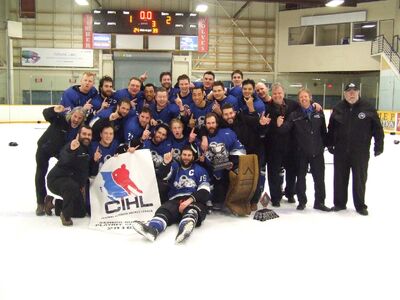 Ad blocker interference detected!
Wikia is a free-to-use site that makes money from advertising. We have a modified experience for viewers using ad blockers

Wikia is not accessible if you've made further modifications. Remove the custom ad blocker rule(s) and the page will load as expected.