These are the 2016-17 Chaudiere-Appalaches Junior AA Hockey League season. A winner of each division/region plays for the 2017 Coupe Dodge. The point totals include "FPP" (Fair Play Points) which are derived from penalty minutes and suspension or lack thereof.
Membership Changes
Edit
the league appears to have added the Plessisville Boutin Express, however this team also appeared on the team list the previous season along with 2 other teams and none of the the three showed up in the league's final standings.
The Teams
Edit
Standings
Edit
The league (along with most junior leagues in Quebec) uses what is called a Fair Play Point which is a bonus point in the standings if the team meets certain requirements in terms of avoiding penalties.
note: one game between Sainte-Georges and Montmagny was cancelled, re-scheduled, and then not played
All ten teams make the playoffs.  The seventh place team plays the tenth place team and the eighth place team plays the ninth place team in a best of three qualifying round.  The two winners are then reseeded by points and are matched up against the first place and second place teams, along with the third place team playing the sixth place team and fourth place team playing the fifth place team in the best of five quarterfinals. The semifinals are best of five.  Both finalist qualify for the 2017 Coupe Dodge.
Preliminary Round
Edit
Quarterfinals
Edit
Semfinals
Edit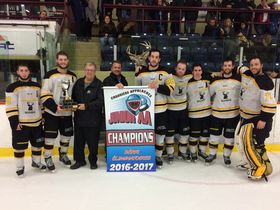 Ad blocker interference detected!
Wikia is a free-to-use site that makes money from advertising. We have a modified experience for viewers using ad blockers

Wikia is not accessible if you've made further modifications. Remove the custom ad blocker rule(s) and the page will load as expected.