Ad blocker interference detected!
Wikia is a free-to-use site that makes money from advertising. We have a modified experience for viewers using ad blockers

Wikia is not accessible if you've made further modifications. Remove the custom ad blocker rule(s) and the page will load as expected.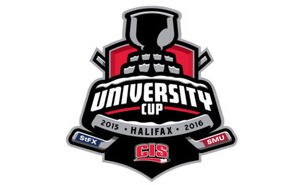 This is the 2015 tournament for the University Cup, the CIS men's hockey championship. It was played at Halifax, Nova Scotia and was hosted by St. Francis Xavier University. It was the tournament which introduced the 8-team single knock-out format, with a bronze medal game. There were three qualifiers from the OUA and two qualifiers each from the CWUAA and the AUS (in addition to the host team).
 BACK-2014 : NEXT-2016
 2014-15 CWUAA Season
 2014-15 OUA Season
 2014-15 AUS Season

Tournament
Edit
Quarter-finals
Semi-finals
Bronze Medal Game
Final
All-Canadians 1st Team
Jesse Craige - University of Alberta
Jordan Murray - University of New Brunswick
Spencer Pommells - University of Windsor
Philippe Maillet - University of New Brunswick
T.J. Foster - University of Alberta
Anthony Peters - Saint Mary's University
All-Canadians 2nd Team
Kenny Bradford - University of Windsor
Reginaldo Traccitto - University of Prince Edward Island
Cedric McNicoll - McGill University
Cody Cartier - Mount Royal University
Brett Thompson - Acadia University
Kris Lazaruk - University of Calgary
All-Rookie Team
Spencer Abraham - Queen's University
Randy Gazzola - University of New Brunswick
Zachary Franko - Acadia University
Darcy Greenaway - Queen's University
Stephane Legault - University of Alberta
Eric Williams - University of British Columbia
Rookie of the Year
Spencer Abraham - Queen's University
Defenceman of the Year
Jesse Craige - University of Alberta
Goaltender of the Year
Anthony Peters - Saint Mary's University
Player of the Year
Spencer Pommells - University of Windsor
Most Sportsmanlike Player
Elgin Pearce - University of Calgary
Student-Athlete Community Service Award
Olivier Hinse - Concordia University
Coach of the Year
Gardiner MacDougall - University of New Brunswick
External Links
Edit