This is the 2015 Cyclone Taylor Cup, the Junior B ice hockey  Provincial Championship for British Columbia.
The three league champions of British Columbia's Junior B leagues and a host team played a single round robin round.  The first and second place teams played off for the championship and the third and fourth place teams play in a consolation game. The winner of the championship advanced to the 2015 Keystone Cup, which is the Western Canada Junior B championship.
Participants
Edit
Round Robin Standings
Edit
Team                     GP W L OL SL GF GA P
Campbell River Storm      3 3 0  0  0 13  8 8
Kimberley Dynamiters      3 2 0  1  0 10  9 6
Mission City Outlaws      3 1 1  0  1 10 11 4
North Vancouver Wolf Pack 3 0 1  1  1 13 18 2

Round Robin Results
Edit
Campbell River defeated North Vancouver 6-3
Kimberley defeated Mission City 2-1
Campbell River defeated Kimberley 4-3 (ot)
Mission City defeated North Vancouver 7-6 (so)
Kimberley defeated North Vancouver 5-4 (ot)
Campbell River defeated Mission City 3-2
Final Round
Edit
Consolation game
Edit
Mission City defeated North Vancouver 3-2
Championship Game
Edit
Campbell River defeated Kimberley 6-5
Campbell River Storm advanced to 2015 Keystone Cup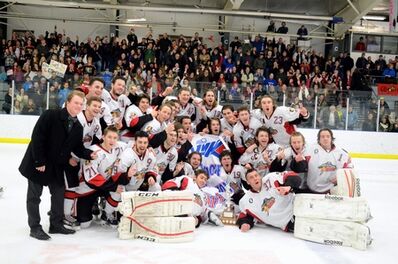 Ad blocker interference detected!
Wikia is a free-to-use site that makes money from advertising. We have a modified experience for viewers using ad blockers

Wikia is not accessible if you've made further modifications. Remove the custom ad blocker rule(s) and the page will load as expected.