This is the 2015-16 Qu'appelle Valley Senior Hockey League season.
Membership Changes
Edit
Standings
Edit
All six teams qualify for the playoffs.  The top two seeds earn a first round bye.  Seed 3 plays seed 6 and 4 plays 5 in the best-of-three quarterfinal round.  The top seed plays the lower seeded quarterfinal winner and the second seed plays the higher seeded quarterfinal winner in the best-of-five semifinals.  The semifinal winners meet in the best-of-five final.
Quarterfinals
Edit
Grenfell Spitfires defeated Odessa/Vibank Bruins 2 games to none (6-0, 7-2)
Milestone Flyers defeated Balcarres Broncs 2 games to 1 (4-5, 4-3, 7-3)
Semifinals
Edit
Balgonie Bisons defeated Milestone Flyers 3 games to none (5-2, 6-4, 4-2)
Grenfell Spitfires defeated Radville Nationals 3 games to 1 (2-5, 5-3, 11-1, 5-2)
Balgonie Bisons defeated Grenfell Spitfires 3 games to 1 (4-3 (2ot), 4-5, 9-5, 6-3)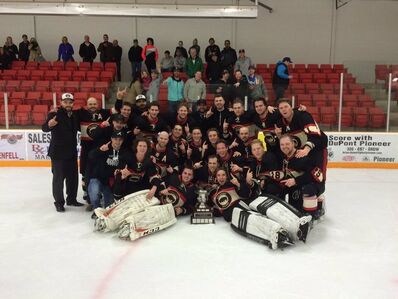 Ad blocker interference detected!
Wikia is a free-to-use site that makes money from advertising. We have a modified experience for viewers using ad blockers

Wikia is not accessible if you've made further modifications. Remove the custom ad blocker rule(s) and the page will load as expected.