This is the 2015-16 Colonial Hockey Conference Women's hockey season.  This is the conference's first season.  The conference was originally scheduled to be name ECAC North Atlantic under an affilition with the ECAC.
Membership Changes
Edit
none
Membership
Edit
| | | |
| --- | --- | --- |
| Team | Location | Arena |
| Becker Hawks | Worcester, MA | New England Sports Center (Marlborough) |
| Daniel Webster Eagles | Nashua, NH | Conway Arena |
| Endicott Gulls | Beverly, MA | Raymond J Bourque Arena |
| Johnson & Wales Wildcats | Providence, RI | Blackstone Valley Sports Center |
| Morrisville Mustangs | Morrisville, NY | Morrisville State IcePlex |
| Salem State Vikings | Salem, MA | Rockett Arena |
| Stevenson Mustangs | Owings Mills, MD | Reisterstown Sportsplex |
| SUNY Canton Kanaroos | Canton, NY | SUNY Canton Athletic and Recreation Center |
Standings
Edit
Conference Tournament
Edit
The top six teams qualify for the conference tournament.  The top two seeds earn a bye to the semifinals.  The quarterfinals will match up #3 hosting #6 and #4 hosting #5 on February 27th.
The semifinals will have the top seed hosting the lower seeded quarterfinal winner and the second seed hosting the higher seeded quarterfinal winner on March 5th.  The higher seeded semifinal final winner will host the lower seeded semifinal winner on March 6th.  The winner of the tournament does NOT earn an automatic bid to the 2016 NCAA Division III Women's Ice Hockey Tournament.
Quarterfinals
Edit
Morrisville defeated Johnson & Wales 7-0
Becker defeated SUNY-Canton 1-0
Semifinals
Edit
Stevenson defeated Becker 5 to 3
Endicott defeated  Morrisville 5 to 0
Stevenson defeated Endicott 2-1 (2 ot)
The Stevenson Mustangs did not advance to the 2016 NCAA Division III Women's Ice Hockey Tournament.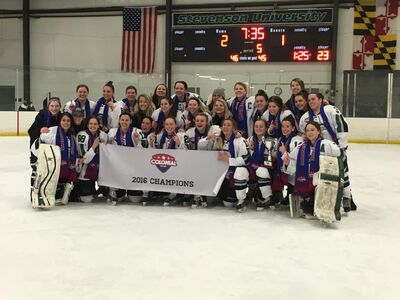 Ad blocker interference detected!
Wikia is a free-to-use site that makes money from advertising. We have a modified experience for viewers using ad blockers

Wikia is not accessible if you've made further modifications. Remove the custom ad blocker rule(s) and the page will load as expected.