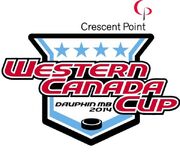 The 2014 Western Canada Cup, the Western Canadian Junior A Championship, was played at the Credit Union Place in Dauphin, Manitoba from April 26 to May 4, 2014.
Round Robin
Edit
Tie Breaker: Head-to-Head, then 3-way +/-.
Round Robin results
Game
Away Team
Score
Home Team
Score
Notes
1
Yorkton
1
Winnipeg
3
Final
2
Spruce Grove
2
Dauphin
4
Final
3
Coquitlam
3
Spruce Grove
1
Final
4
Dauphin
6
Yorkton
8
Final
5
Winnipeg
1
Coquitlam
2
Final
6
Yorkton
2
Spruce Grove
3
OT Final
7
Winnipeg
3
Dauphin
4
OT Final
8
Coquitlam
1
Yorkton
4
Final
9
Spruce Grove
5
Winnipeg
3
Final
10
Dauphin
5
Coquitlam
3
Final
Schedule and results can be found on the official website. www.westerncanadacup.com
Semi and Finals
Edit
Championship Round
Game
Away Team
Score
Home Team
Score
Notes
Semi-final
Coquitlam
3
Spruce Grove
5
Final
Final
Yorkton
5
Dauphin
4
Final
Runner-Up
Spruce Grove
3
Dauphin
4
Final
Yorkton Terriers and Dauphin Kings move on to the 2014 Royal Bank Cup.
Award Winners
Edit
All-Tournament Team
Edit
Goalie: Jordan Piccolino (Dauphin Kings)
Defencemen: Channing Brescianni (Winnipeg Blues); Corey Chorneyko (Spruce Grove Saints)
Forwards: Brett Boehm (Yorkton Terriers); Ryan Rosenthal (Coquitlam Express); Brent Wold (Dauphin Kings)
Team Photos
Edit
Ad blocker interference detected!
Wikia is a free-to-use site that makes money from advertising. We have a modified experience for viewers using ad blockers

Wikia is not accessible if you've made further modifications. Remove the custom ad blocker rule(s) and the page will load as expected.