2013–14 Clarkson Golden Knights women's ice hockey season
Talk

0
Share
Ad blocker interference detected!
Wikia is a free-to-use site that makes money from advertising. We have a modified experience for viewers using ad blockers

Wikia is not accessible if you've made further modifications. Remove the custom ad blocker rule(s) and the page will load as expected.
The Clarkson Golden Knights women's ice hockey program will represent Clarkson University during the 2013–14 NCAA Division I women's ice hockey season. On December 14, 2013, the Golden Knights competed in an outdoor game against the RIT Tigers at Frontier Field in Rochester, New York. The Golden Knights prevailed by a 6-2 tally.
The Golden Knights would finish the season by winning their first-ever NCAA Frozen Four championship in a 5-4 triumph against the Minnesota Golden Gophers. In addition, Golden Knights senior Jamie Lee Rattray would become the first player in program history to win the Patty Kazmaier Award. Of note, it is the first national championship in the history of Clarkson athletics.
Offseason
Edit
Recruiting
Edit
| | | | |
| --- | --- | --- | --- |
| Player | Position | Nationality | Notes |
| Genevieve Bannon | Forward |  Canada | Played at Ontario Hockey Academy |
| Jessica Gillham | Forward |  Canada | Competed with the PWHL's Aurora Panthers club |
| Corie Jacobson | Defense |  Canada | Member of North Bay Ice Boltz |
| McKenzie Johnson | Goaltender |  United States | Competed at Eden Prairie High School in Minnesota |
CIS Exhibition
Edit
| | | | |
| --- | --- | --- | --- |
| Date | Opponent | Location | Score |
| 01/03/14 | McGill Martlets | Potsdam, NY | 7-0 |
Regular season
Edit
| | | | |
| --- | --- | --- | --- |
| Date | Opponent | Location | Score |
| 09/28/13 | RIT Tigers | Potsdam, NY | 12-1 |
| 10/04/13 | St. Lawrence Skating Saints | Potsdam, NY | 5-2 |
| 10/05/13 | St. Lawrence Skating Saints | Canton, NY | 4-1 |
| 10/11/13 | Syracuse Orange | Syracuse, NY | 2-1 |
| 10/12/13 | Syracuse Orange | Postdam, NY | 4-0 |
| 10/18/13 | Mercyhurst Lakers | Postdam, NY | 0-2 |
| 10/19/13 | Mercyhurst Lakers | Postdam, NY | 1-1 |
| 10/25/13 | Cornell Big Red | Ithaca, NY | 3-6 |
| 10/26/13 | Colgate Raiders | Hamilton, NY | 2-0 |
| 11/01/13 | Brown Bears | Potsdam, NY | 1-1 |
| 11/02/13 | Yale Bulldogs | Potsdam, NY | 7-0 |
| 11/08/13 | Dartmouth Big Green | Potsdam, NY | 3-0 |
| 11/09/13 | Harvard Crimson | Potsdam, NY | 0-2 |
| 11/15/13 | Providence Friars | Potsdam, NY | 5-1 |
| 11/16/13 | Providence Friars | Potsdam, NY | 4-0 |
| 11/22/13 | Princeton Tigers | Princeton, NY | 7-0 |
| 11/23/13 | Quinnipiac Bobcats | Hamden, CT | 3-0 |
| 12/06/13 | North Dakota Fighting Sioux | Potsdam, NY | 1-2 |
| 12/07/13 | North Dakota Fighting Sioux | Potsdam, NY | 2-1 |
| 12/14/13 | RIT Tigers | Rochester, NY | 6-2 |
| 1/10/14 | St. Lawrence Skating Saints | Canton, NY | 6-0 |
| 1/11/14 | St. Lawrence Skating Saints | Potsdam, NY | 3-0 |
| 1/17/14 | Yale Bulldogs | New Haven, CT | 3-3 |
| 1/18/14 | Brown Bears | Providence, RI | 4-1 |
| 1/24/14 | Colgate Raiders | Potsdam, NY | 5-2 |
| 1/25/14 | Cornell Big Red | Potsdam, NY | 3-1 |
| 1/31/14 | Union Dutchwomen | Schenectady, NY | 5-0 |
| 2/01/14 | Rensselaer Engineers | Troy, NY | 5-1 |
| 2/07/14 | Quinnipiac Bobcats | Potsdam, NY | 3-3 |
| 2/08/14 | Princeton Tigers | Potsdam, NY | 2-2 |
| 2/14/14 | Harvard Crimson | Cambridge, MA | 2-1 |
| 2/15/14 | Dartmouth Big Green | Hanover, NH | 6-1 |
| 2/21/14 | Rensselaer Engineers | Potsdam, NY | 6-0 |
| 2/22/14 | Union Dutchwomen | Potsdam, NY | 2-1 (OT) |
Postseason
Edit
ECAC Tournament
Edit
| | | | |
| --- | --- | --- | --- |
| Date | Opponent | Location | Score |
| 02/28/14 | Dartmouth | Potsdam, NY | 2-0 |
| 03/01/14 | Dartmouth | Potsdam, NY | 2-0 |
| 03/08/14 | Quinnipiac | Potsdam, NY | 6-0 |
| 03/09/14 | Cornell | Potsdam, NY | 0-1 |
NCAA Tournament
Edit
| | | | |
| --- | --- | --- | --- |
| Date | Opponent | Location | Score |
| 03/15/14 | Boston College | Potsdam, NY | 3-1 |
| 03/21/14 | Mercyhurst | Hamden, CT | 5-1 |
| 03/23/14 | Minnesota | Hamden, CT | 5-4 |
Awards and honors
Edit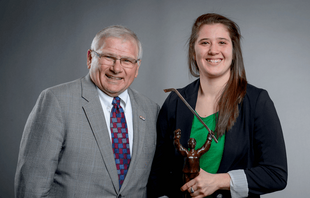 References
Edit

[[Category:NCAA women's ice hockey championship seasons]