Ad blocker interference detected!
Wikia is a free-to-use site that makes money from advertising. We have a modified experience for viewers using ad blockers

Wikia is not accessible if you've made further modifications. Remove the custom ad blocker rule(s) and the page will load as expected.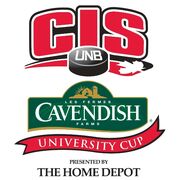 This is the 2012 tournament for the University Cup, the CIS men's hockey championship. It was played at Fredericton, New Brunswick and was hosted by the UNB Varsity Reds. It was in the 6-team, 2 pools format that would remain in use through the 2014 tournament.
 BACK-2011 : NEXT-2013

Participating Teams
Edit
Seeds
Round-Robin
Edit
March 22: McGill 6 Moncton 3
March 23: Moncton 5 Saskatchewan 1
March 24: Saskatchewan 4 McGill 3
McGill         1-1-0-2   9-7
Moncton        1-1-0-2   8-7
Saskatchewan   1-1-0-2   5-8

March 22: New Brunswick 6 UQTR 1
March 23: UQTR 2 Western Ontario 3 OT
March 24: Western Ontario 3 New Brunswick 2
W. Ontario     2-0-0-4   6-4
New Brunswick  1-1-0-2   8-4
UQTR           0-2-0-0   3-9

Final Game
Edit
March 25: Western Ontario 3 McGill 4 OT
Team Photos
Edit
National links:
Western links:
Atlantic links:
Ontario-Quebec links:
College links: