The 2012 NHL Entry Draft was the 50th NHL Entry Draft. The draft was held June 22–23, 2012, at the Consol Energy Center in Pittsburgh, Pennsylvania.[1] It was the first time that Pittsburgh hosted the draft since the 1997 NHL Entry Draft. The top three picks were Nail Yakupov, Ryan Murray and Alex Galchenyuk.
Scheduling Conflicts
Edit
The date for the draft would have coincided with Anthrocon, which occupies a large amount of Pittsburgh's downtown hotel space each year. The City of Pittsburgh asked Anthrocon to move its date in order to secure the NHL draft, and Anthrocon did so on condition of additional hotel space. [2]
Eligibility
Edit
Ice hockey players born between January 1, 1992, and September 14, 1994, were eligible for selection in the 2012 NHL Entry Draft. Additionally, un-drafted, non-North American players over the age of 20 are eligible for the draft; and those players who were drafted in the 2010 NHL Entry Draft, but not signed by an NHL team and who were born after June 24, 1992, were also eligible to re-enter the draft.[3]
Draft lottery
Edit
The NHL draft lottery enables a team to move up to four spots ahead in the draft. Thus, only the bottom five teams were eligible to receive the number one draft pick. The Edmonton Oilers won the 2012 draft lottery that took place on April 10, thus moving them up from the second pick to the first pick.[4]
Top prospects
Edit
Source: NHL Central Scouting final (April 9, 2012) ranking.[5]
Selections by round
Edit
Round one
Edit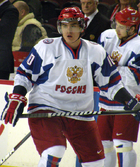 Round two
Edit
Round three
Edit
Round four
Edit
Round five
Edit
Round six
Edit
Round seven
Edit
Draftees based on nationality
Edit
| Rank | Country | Picks | Percent |
| --- | --- | --- | --- |
| | North America | 154 | 73.0% |
| 1 |  Canada | 100 | 47.4% |
| 2 |  United States | 54 | 25.6% |
| | Europe | 57 | 27.0% |
| 3 |  Sweden | 22 | 10.4% |
| 4 |  Russia | 12 | 5.7% |
| 5 |  Finland | 9 | 4.3% |
| 6 |  Czech Republic | 6 | 2.8% |
| 7 |  Latvia | 2 | 0.9% |
| |  Denmark | 2 | 0.9% |
| 8 |  France | 1 | 0.5% |
| |  Switzerland | 1 | 0.5% |
| |  Belarus | 1 | 0.5% |
| |  Great Britain | 1 | 0.5% |
North American draftees by state/province
Edit
| Rank | State/Province | Selections | Top Selection |
| --- | --- | --- | --- |
| 1 | Ontario | 44 | Slater Koekkoek, 10th |
| 2 | Alberta | 17 | Mitch Moroz, 32nd |
| 3 | Quebec | 14 | Mike Matheson, 23rd |
| 4 | British Columbia | 10 | Griffin Reinhart, 4th |
| 5 | Minnesota | 9 | Brady Skjei, 28th |
| 6 | Saskatchewan | 8 | Ryan Murray, 2nd |
| 6 | Michigan | 8 | Jacob Trouba, 9th |
| 6 | Massachusetts | 8 | Sam Kurker, 56th |
| 9 | New Jersey | 4 | Anthony Stolarz, 45th |
| 9 | Illinois | 4 | Thomas Di Pauli, 100th |
| 11 | Wisconsin | 4 | Alex Galchenyuk, 3 |
| 11 | New York | 3 | Dylan Blujus, 40th |
| 11 | Manitoba | 3 | Chris Dreidger, 76th |
| 11 | Florida | 3 | Shayne Gostibehere, 78th |
| 11 | Alaska | 3 | Austin Wuthrich, 107th |
| 16 | Maine | 2 | Brian Hart, 53rd |
| 17 | Arizona | 1 | Henrik Samuelsson, 27th |
| 17 | California | 1 | Nic Kerdiles, 36th |
| 17 | Northwest Territories | 1 | Steven Hodges, 84th |
| 17 | Newfoundland and Labrador | 1 | James Melindy, 88th |
| 17 | Colorado | 2 | Jaccob Slavin, 120th |
| 17 | Virginia | 1 | Brendan Woods, 129th |
| 17 | Connecticut | 1 | Robert Baillargeon, 136th |
| 17 | Pennsylvania | 1 | Riley Barber, 167th |
| 17 | North Dakota | 1 | Paul LaDue, 181st |
| 17 | Nova Scotia | 1 | Brandon Whitney, 191st |
| 17 | Texas | 1 | Colton Hargrove, 205th |
| 17 | New Brunswick | 1 | Justin Hache, 208th |
References
Edit